1. Introduction
You're welcome here. For you to be here I know you're interested in knowing how to create a Shopify store in 2020. If so, you're in the right place. In this post, I'll be giving in-depth shopify tutorial for beginners and intermediate (if you are a pro already, read along cause you'll learn a lot from this). To make it easy, I've divided the tutorial into 17 steps. If you're a beginner make sure you done skip any step and if you need help or facing challenges while creating your store you can check the table of content above; if it's not there, kindly let me know in the comment box at the end of this tutorial (Guess what! I reply to all comments and questions).
2. What Is Shopify
Shopify is an ecommerce platform designed for creating an online store. (Simple right?). If you sell goods or products offline or own a physical shop, you can also reach more customers with an ecommerce store created with Shopify. Also with Shopify you can create an ecommerce store without owing or storing the product. This business model is known as SHOPIFY DROPSHIPPING or AFFILIATE MARKETING.
3. How To Signup To Shopify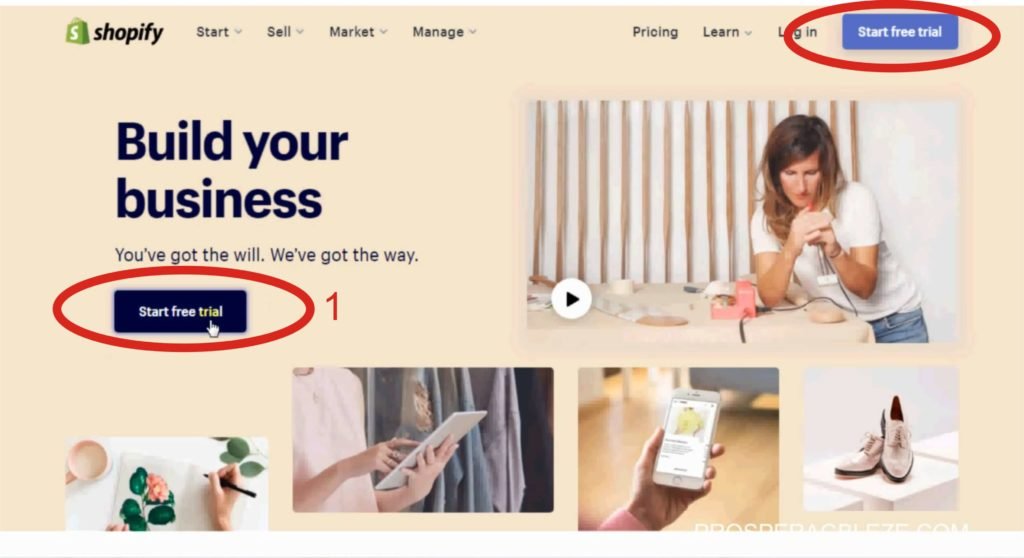 To get started with creating a store with Shopify, click here >> akprosperblog.com/Shopify to signup and get 14 14-day trial.
Click start free trial
Enter your Email address, password and store name. Note: the store name will also be your store URL.
Click create your store
On the next page you fill in your details
Click Enter My store
4. How To Add A Theme In Shopify
In this tutorial, we'll be using a free theme called Supply
Click "Online Store" It's at the left side of your screen
Click "Themes" from the drop-down
On the themes page, click explore free themes (Shopify also has paid themes)
Search for "Supply" and select light style
Click "Add Supply"
Ones the theme has been successfully added, scroll down, click on action, publish then confirm
5. How To Add Product To Shopify
On your dashboard, click products
Click add product
Enter your product title, description, images, price, inventory, shipping, variant, tags etc
When you're done click on save product
6. How To Add Collections To Shopify
Collection simply means grouping similar products together.
On your dashboard, click products
Click collections >> Create collection
Enter title, description and other things are optional
For collection type, select manual then save
To add a product to the collection, when the page loads, scroll down to products, click browse, select the products you want to add to the collection, and then click add
7. How To Setup Shipping In Shopify
On your dashboard, click settings at the lower right
From the list of settings, locate shipping and click on it
Set your shipping origin that is where you're shipping from. By default, your store address will be your shipping origin but you can change it
Set your shipping rate and shipping zone, that is where you will be shipping to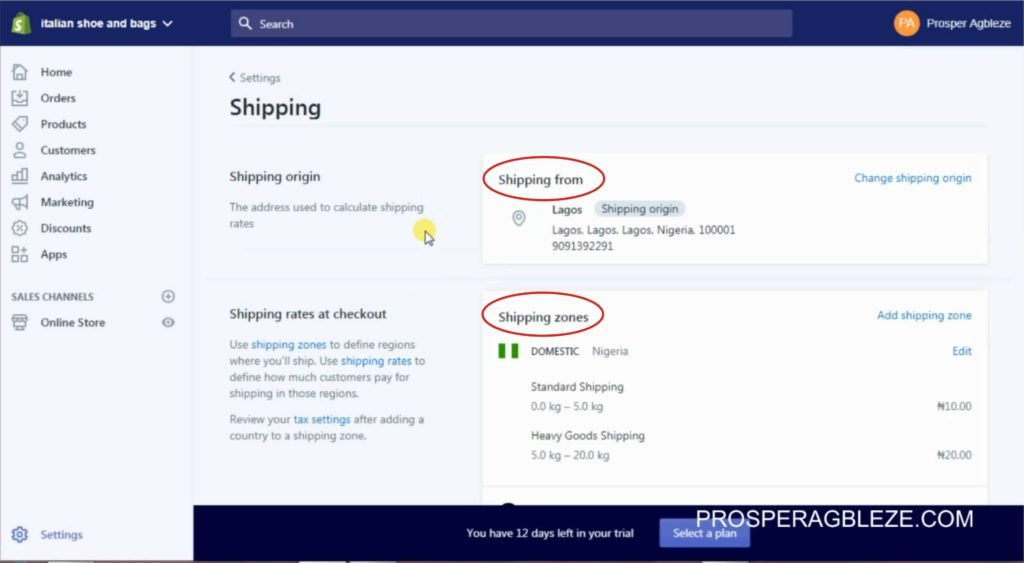 8. How To Setup Payment In Shopify
On your dashboard, click settings at the lower right
From the list of settings, locate payment providers and click on it
Select the payment method you want to use on your store like PayPal, credit cards, cryptocurrency, cash on delivery (COD) etc. To accept credit card, choose from the list of payment gateway available and fill in the required details
9. How To Setup Checkout Page In Shopify
On your dashboard, click settings at the lower right
From the list of settings, locate checkout and click on it
Select the option that best fit your store
10. How To Create Pages In Shopify
On your dashboard, click Online Store >> Pages >> Add page
Enter your page title and description then save
For the contact page, enter your title, you don't need to add any content in the description. At the right you'll find template suffix, click on it and select "page.contact" then save. This will automatically create a contact form for your contact page
11. How To Create Menu In Shopify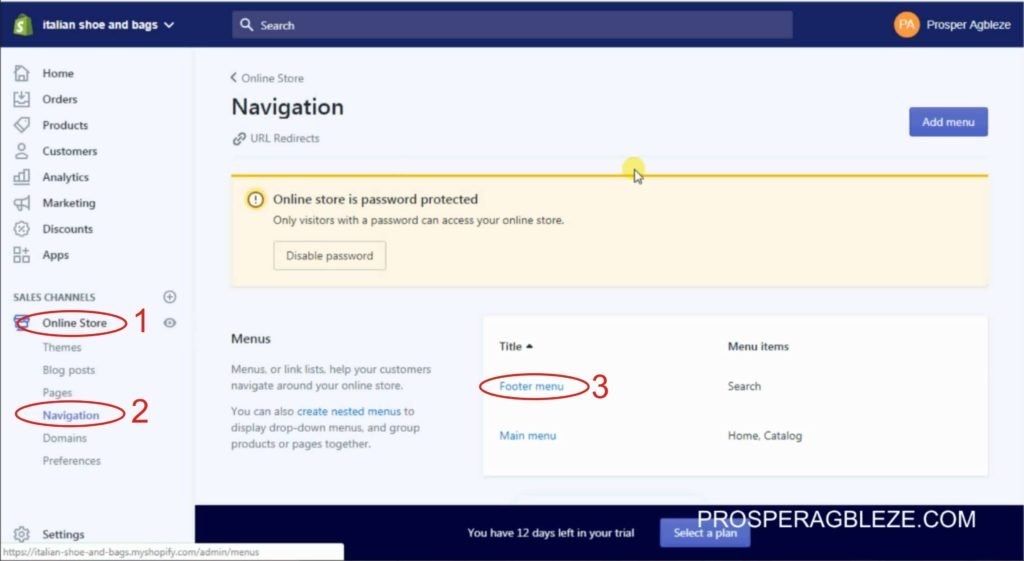 On your dashboard, click Online Store >> Navigation >> Add menu
There are two types of menu; footer menu and main menu
Starting with the footer menu, Click footer menu >> Add menu item
Enter the name of the page you want to add, on the next row, click link >> Pages and selected the page then click add. You can also add collection, product to the menu. Just select it in the link row
Repeat the process to add other pages to the footer menu
When done you can rearrange the menu the way you want by dragging it up or down
Follow the same step to create the main menu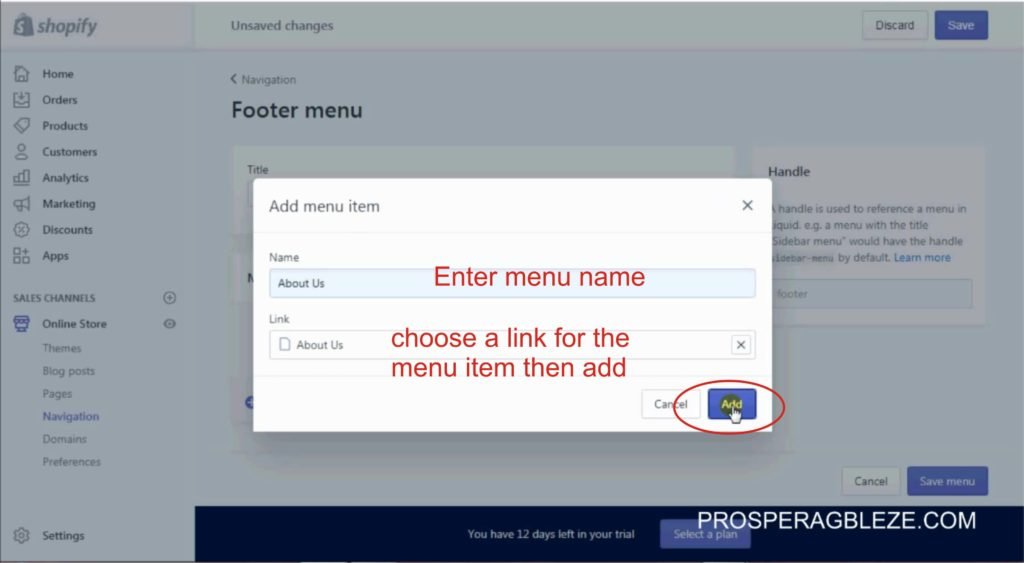 12. How To Customise Shopify Homepage
On your dashboard, click Online Store >> Themes >> Customize
The customize section is where you arrange each section of the of the homepage including other theme settings like logo, typography, colour, size, footer widget etc
13. How To Add A Custom Domain In Shopify
By default, your domain name will be formed from your store with a dot myshopify extension. This is not ideal for a store as it's not SEO friendly and it will be difficult for buyers to remember the store link. To get a custom domain, follow the steps below:
On your dashboard, click Online Store >> Domains
On the domain page, you can either "Buy new domain" or "connect an existing domain" that is if you've bought a domain from other registrar like Hostgator, namecheap, Siteground etc you can connect it to your Shopify store when you select the "connect an existing domain" option.
14. How To Pick A Plan And Remove Store Password
To start taking orders on your store, you'll need to pick a plan as this will enable checkout. If you don't choose a plan you can't checkout. Also the store will be password protected, meaning your store will be displaying a coming soon page
At the bottom of the dashboard, you'll see a blue box telling you how many day you have left in your free trial. Next to it is an option to select a plan; click on it
You'll pick one of the available plans. It's important to note that you'll only be charged at the end of your 14 days free trial
Confirm your plan by entering your card details then click on start plan
You'll be redirected to the preferences page, under password protection uncheck enable password then save
With this your store will be live and the checkout page will be accessible
15. How To Add Apps In Shopify
If you're familiar with WordPress, Shopify apps are similar to WordPress plugins. They are add-ons that add more features and functionalities to your store.
On your dashboard, click apps
Select the app you want to add and complete the setup
Read my Top 10 Recommended Shopify App
16. Exploring General Settings
On the general settings, you'll be able to change store details such as store name, account and customer email, store address, time zone, unit system and the default weight unit, and store currency. You can also add a currency converter app that converts your store's currency to the customer's currency.
17. Exploring Other Settings
There are other settings available in Shopify.
TAX: The tax allows you to set up tax. I won't be writing much about this cause different countries have different taxing systems when it comes to ecommerce and other internet related businesses make sure you do your findings when setting up your store.
ACCOUNTS: Here you'll be able to add staff with roles to manage the store.
Now that you've read this step by step guide on creating an ecommerce store using Shopify, click here to sign up and get your 14 days free trial.
Basically, this is how to create a Shopify store. In case you have any questions; feel free to leave them in the comment box below. Don't forget to like and share this post.
Below is the video to this tutorial